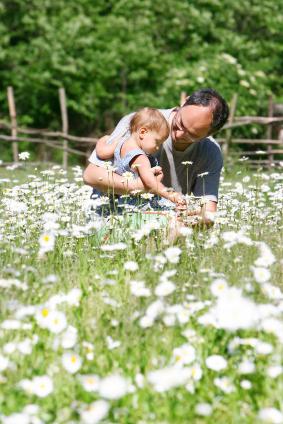 Included in Chapter 1240-2-4 of the state's statutes, Tennessee child support laws allow divorced or separated parents to receive as much as half of the cost of raising a child from the non-custodial parent. This law sets forth the types of things a non-custodial parent can be required to pay for, the equation for calculating the amount of support, and the maximum amount of child support that can be ordered per month.
Basic Tennessee Child Support Rules
Child support orders in Tennessee are established, enforced and modified by the county court in which the child lives. County courts have authority to create a support order for separated or divorced parents and can modify an order created by an out-of-state court if the child has moved to within the court's jurisdiction.
The state's rules are reviewed every four years to determine if they require changes. The most recent review occurred in 2008, resulting in the rules that apply in early 2011.
The rules presume parents spend an equal amount of time with their child, and that both parents contribute equally from their income to the child's support. When the other parent is unable to work due to caring for a special-needs child, one parent will never be solely responsible for a child's financial support. Court-ordered child support is only available for children 18 years-old or younger or for children who have not graduated high school.
The Multi-Step Process
Tennessee's child support order process has three steps.
The court calculates a Basic Child Support Order (BCSO) to pay for the things considered necessary by the government to raise any child. These include transportation, health care, housing and food.
It calculates funds for additional child-rearing expenses, such as summer camps, extracurricular activities and private schooling. A parent requesting more money than what is provided for by the BCSO must prove need. If sufficiently proven, the court increases the child support award by the amount necessary for the child's support, thereby issuing a Presumptive Child Support Order (PCSO).
Once approved and finalized, the order is established as a Final Child Support Order (FCSO).
Applying for Support
Parents in Tennessee can apply for child support in multiple ways:
It can be included as part of a divorce and custody proceeding.
Parents can hire an attorney to initiate a child support proceeding.
Parents can apply for services at their local support office, which is a branch of the Tennessee Department of Human Services.
Calculating Support
Parents use a worksheet to calculate a BCSO.
The worksheet first subtracts the costs of work-related childcare and the child's health care expenses from a parent's Adjusted Gross Income (AGI). AGI includes salary, interest income, trusts and annuities. Social Security benefits, low-income housing assistance and other government benefits are not considered income.
The amounts are combined to determine the total amount of monthly income available to support the child.
That amount is then used to determine the amount the state anticipates a normal household to spend each month on supporting the child, which is set forth in a schedule.
The monthly support amount is divided in half.
Credits for not spending as much time with the child as the other parent or supporting children from another marriage are then credited against the respective parent's support obligation.
The court then receives evidence regarding extraordinary expenses for which the custodial parent requires money.
Finally, the parent paying less support is ordered to provide the remaining amount to the other parent.
In Tennessee, a child support order cannot require a parent to pay more than 21 percent of his or her monthly income or $2,100.00. Deviation from these maximum amounts is possible if evidence proves that the child has additional needs.
Support can be ordered to be paid weekly, biweekly or monthly. Modifications to previous orders are only possible if either parent's income has fluctuated by at least 15 percent, if the child has suddenly become disabled, or if the parents agree.
Review and Adjustment
Review of an existing order can occur every three years. Either parent can request a review. The court may adjust child support amounts owed if:
There is a substantial change in income of either parent (at least 15 percent)
There is an agreement of both parties
A change in the number of children the non-custodial parent must support
There is a 15 percent or greater change in the monthly support amount or the change is greater than $100 per month
Collection and Distribution
In Tennessee, the Centralized Collections Unit (CCU) collects and disburses all child support payments. Payments can be made via income withholding (payroll deduction), online, or mailed to:
Central Child Support
Receipting Unit P. O. Box 305200
Nashville, TN 37229
Payments are received via the Tennessee Way2Go Card, a Mastercard debit card.
For More Information
To learn more, visit the Tennessee Department of Human Services website.